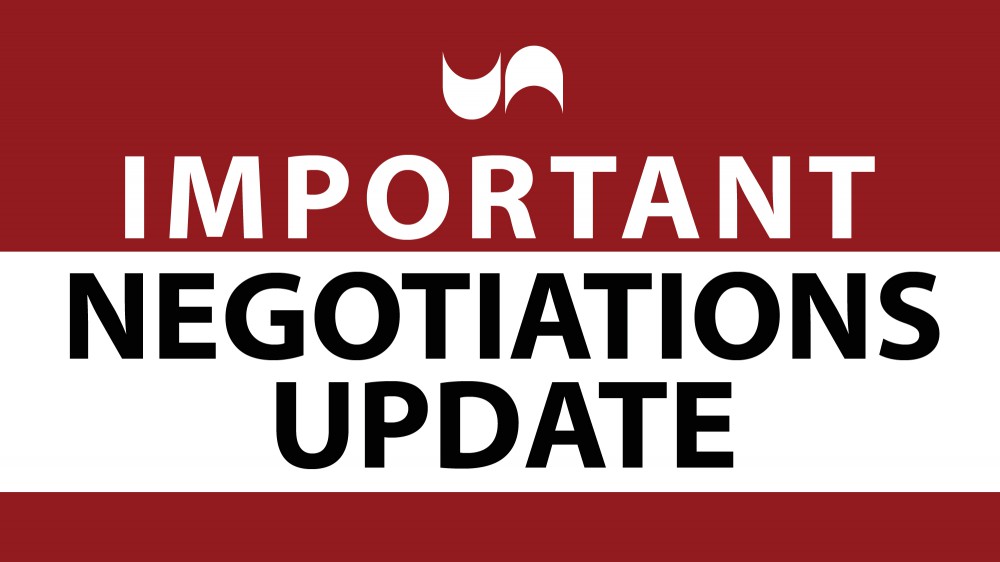 Reposted from una.ca
An update from the UNA Provincial Negotiations Committee on July 8, 2021:
– Met with the Employers July 6 and July 8.
– July 6th the Employers escalated their salary proposal from 0% to minus 3%
– Employers returned to the current car allowance, overtime rates and education allowances.
-Amended the amount of premium reductions :Reduce evening premium from $2.75 to $2.24 (previous proposal $2.11). Reduce night premium from $5.00 to $3.48 (previous proposal $3.10). Reduce weekend premium from $3.25 to $2.69 (previous proposal $2.55)
– Employers offer to continue Letter of Understanding re. Job Security, but only if 3% wage rollback agreed to.
UNA and Employers are scheduled to meet again on July 13 and 14.

Attached to this Fanout are two documents:
1. Forward Not Back summary (see below)
2.  Summary of AHS and UNA Proposals as of July 8, 2021
PLEASE SHARE THIS INFORMATION WITH ALL MEMBERS————————–
FORWARD NOT BACK!
UNA Negotiating Committee message to members:
After a 16 month hiatus, the parties have returned to the bargaining table – Employer escalates its rollbacks.
A 3% wage rollback and hundreds of other rollbacks have been put on the table by Alberta Health Services, Covenant Health and other employers in the current round of negotiations for a new Provincial General Agreement.
We were shocked to see the Employer, directed by the government, change their proposal this week to add the 3% salary rollback on top of their already proposed elimination of lump-sum payments – the equivalent of a 5% wage cut. This is in addition to other rollbacks to compensation and working conditions.
It's up to us – Alberta's nurses – to make sure this doesn't come to pass!
Article 7: Hours of Work and Scheduling Provisions
Employers propose weekly hours to be averaged over 14 days, rather than 7 days. (note: this would have serious implications for overtime as well as scheduling for part-time employees.)
Article 8: Overtime
Employers propose to cap overtime bank at 38.75 hours. Thereafter all overtime will be paid out as it is worked.
Article 9: On Call
The Employers propose weakening call-back rules to avoid paying on call premiums and the 3 hour minimum call back for meetings and in-services.
Article 14: Promotions & Transfers
Employers propose nurses would no longer be guaranteed their hours per shift or shift per shift cycle. For example a nurse who normally works 8 hour shifts 2 days per week, could have their schedule changed and be required to work 4 hour shifts, 4 days per week.
Employers propose they have the right to use increase and decrease FTE in order to circumvent the posting provisions. For example, if an Employee resigns, the Employers want to avoid posting the vacancy, and instead awarding those hours to whomever they wish.
Article 15: Layoff and Recall
Employers propose to eliminate red circling for longer than one year. There has never been any limit to red circling since UNA was formed in 1977.
Employers propose nurses lose seniority and are terminated if they are not recalled to a regular or temporary position within one year. This would end protection that has been in our contract since 1977.
Article 16: In Charge
Employers propose to end the requirement to have a RN or RPN in charge of each nursing unit. This has been in our agreement since 1997. Its inclusion prevented a strike that year.
During discussion, the Employers indicated they believe it may be more appropriate to place an LPN, RT, PT or Pharmacist in charge in acute care, rather than an RN or RPN. In long term care, the Employers stated it may be more appropriate to have LPN, OT, Rec Therapist or other Regulated Health Professional in charge, rather than an RN or RPN. For Mental Health Units, the Employers indicated they believe it may be more appropriate to place A Psychologist, OT, OR Social Worker in charge rather than an RN or RPN. For ICU and NICU, the Employers indicated they believe it may be more appropriate to place RT in charge rather than an RN.
This would cut pay by 4.25% for nurses designated in charge, and would impact patient safety.
Article 18: Named Holidays
Employers propose to eliminate "super stats" which have been in our contract since 2010.
Article 19: Sick Leave
For Employees returning from LTD, Employers now have 28 days to place the Employee in a position which meets the Employee's restrictions. Employers propose to eliminate all time limits. This would effectively eliminate the requirement to accommodate employees.
Article 25: Salaries
Employers are demanding a 3% wage rollback and elimination of lump-sum payments – the equivalent of a 5% wage cut.
Article 28: Shift Differential & Weekend Premium
Employers propose major cuts to hours that would qualify for premium pay both for shift differentials and weekend premiums They also want cuts to premium pay, and provide differentials and premiums less than what existed more than a decade ago. The proposed rates would also be smaller than those in most other nursing contracts.
For example, they want a 30% cut in night-shift premium pay. The new night rate would be less than that what it was in 2010. For a nurse working permanent nights, this would amount to an additional 4% pay cut annually.
Article 30: Part-time, Temporary & Casual Employees
In addition to wanting hours of work averaged over a 14-day period rather than 7 days, the Employers demand the right to make any nurse work non-scheduled days without advance notice or additional pay. This would eliminate protections that have existed since 1976.
The Employers propose to eliminate overtime worked on designated days of rest. Designated days of rest have been in the contract since the strike of 1980. UNA has told the Employer we will never agree to this.
But the Employers proposals go much further. The effect of the Employers proposals is that all nurses could now be hired as a .3 FTE (not benefits eligible), but required to work full time hours without any additional payment. Initially the Employers stated they would not ever amend this proposal, but eventually stated they would consider an amendment.
For Casual Employees, the Employers propose the right to terminate without cause.
Article 37: Extended Work Day
Employers propose to eliminate the requirement for your union to agree to extended work days.
They also demand the right to negotiate directly with employees – opening the door to putting unfair pressure on nurses to accept inferior working conditions.
They want the right to introduce extended work days to new units.
They want casual and part-time employees to have the "right" to waive overtime – which will result in pressure to force employees to work for less.
Article 44: Mobility
Employers propose gutting mobility rules that avoided job action in 2004. This will result in worse working conditions for many nurses.
Letters of Understanding
The Employers also propose to eliminate Letters of Understanding that:
Clarify scheduling rules to protect nurses (LoU #10)
Provide semi-annual lump-sum payments – this will cost members 2% a year in salary (LoU #11)
Ensure there will be no reduction in overall hours worked by Employees (LoU #12)
The Employers propose that if UNA agrees to the newly escalated salary rollbacks they would renew the No Layoff Letter of Understanding. We believe this is of little benefit – there is a huge nursing shortage and Alberta Health Services has closed beds and services at the Royal Alexandra, Rocky Mountain House, Rimbey, Lacombe, St. Paul, Lac La Biche, High Prairie, Edson, Boyle, Elk Point, Fairview, Galahad, Cold Lake, Wainwright and others due to shortage of nursing staff.
Conclusion
These are just some of the most serious of the rollbacks Employers want to impose on our Provincial General Agreement.
Taken together, these rollbacks will gut our collective agreement, make nurses' working conditions worse, impact patient safety, and cut your pay.
These things will happen if nurses fail to stand together to resist these destructive changes.
Get in touch with your Local leadership at your worksite.
Keep an eye on UNA's website – una.ca – for updates on bargaining.
Stay safe! Stay strong! And stay united!